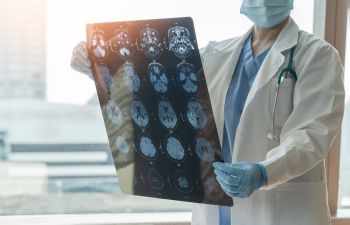 Traumatic brain injuries happen far too often. A TBI (traumatic brain injury) can happen in various ways, including motor vehicle accidents, sports accidents, slip and fall accidents and more. The severity of symptoms ranges widely, but it's always critical to see a doctor immediately.
What is a TBI?
A traumatic brain injury happens when a hard, blunt object hits the skull and affects how the brain functions. A TBI can happen when with a closed head injury, including shaking a baby or impact from a car accident, or a penetrating injury, such as a gunshot. Violent shaking of the head can also cause a TBI.
The degree of injury ranges from bruising, bleeding and swelling in the brain tissues, including the lining and the blood vessels. As the brain is jolted against the skull, severe damage can happen. There is often a primary injury or wound at the time of impact and secondary injuries that develop over time because of the initial injury.
How Does a TBI Cause Problems?
The effects of a TBI are wide and varied. The damage depends on where the brain is injured. It also depends on the severity of the TBI. Unfortunately, many people die from a TBI, and many remain dependent on life support. However, with the right treatment and therapies, many patients get much or all their ability back.
TBI damage can fall into many categories, including language, movement, cognitive abilities, personality or psychiatric changes and deficits in virtually any or every area of life.
Brain cells do not regenerate. Once they are damaged or destroyed, they are gone. However, the brain is an amazing organ and can learn to use other areas to re-learn things.
How Can TBIs Be Treated?
It is critical to get anyone with a head injury to a qualified medical doctor as soon as possible. Seconds really do count in terms of recovery or ongoing damage. The doctor will use a range of neurological testing to determine the levels of impairment with memory, coordination, thinking, motor functions reflexes and more. CT scans and MRIs are taken to get imaging of the brain.
Ortho Sport & Spine Physicians can rapidly assess and begin treatment of TBIs. We have staff specialized in traumatic brain injuries and can provide necessary help immediately, and ongoing treatment and therapy. Dr. Armin Oskouei treats each TBI patient with the personalized, treatment their unique injury requires. Contact Ortho Sport & Spine Physicians to learn more.
Posted on behalf of Ortho Sport & Spine Physicians