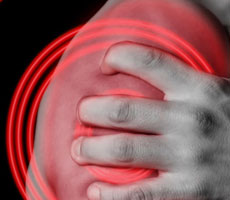 How can you tell if your pain is a shoulder rotator cuff tear? Many people suffer with chronic, long-lasting shoulder pain. If you are unable to raise your arms above your head, you may have the main cause of shoulder pain, a shoulder rotator cuff tear. The pain can be extreme, making it hard to sleep, exercise, work or accomplish anything else in daily life. The highly skilled physicians at Ortho Sport & Spine Physicians can help get you back to normal living again.
Shoulder Cuff Tear Pain
A rotator cuff tear can be caused by a quick onset injury or may be degenerative. This is due to a gradual wear of your tendons over time. Repetitive use or bone spurs are age-related elements that can contribute to a rotator cuff tear.
Symptoms of rotator cuff damage may come on suddenly or gradually, depending on the cause. They often include pain at rest, pain and weakness when lifting or rotating your arm and a crackling sensation when moving your shoulder in certain positions. Regardless of the cause of your rotator cuff tear or the severity of your symptoms, you can trust Ortho Sport & Spine Physicians to accurately diagnose your injury and recommend the most effective treatment option for painful shoulder tears.
Swimmer's Shoulder
If you love swimming, this could be your only reason to stop. Swimmer's shoulder is the result of a repetitive cycle of rubbing the rotator cuff and top outer edge of your shoulder. This leads to more swelling and narrowing of the space, which results in pain and irritation. Treatments include rest, ice, anti-inflammatory medications, physical therapy, cortisone injections and surgery.
You do not have to avoid certain activities that you love due to pain. If your hobbies or sports are causing you difficulty achieving the full range of shoulder motion and progressive weakness, please do not hesitate to contact our clinic today.
If you are suffering from pain or discomfort in your shoulder and fear you may possibly have a tear, reach out to Ortho Sport & Spine Physicians for a consultation.
Posted on behalf of Ortho Sport & Spine Physicians