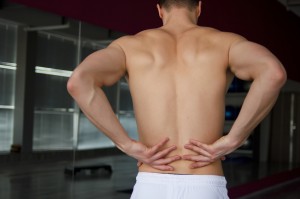 Shock absorbers on bicycles and automobiles make rides smoother for their passengers. The body was also designed with its own personal set of shock absorbers known as spinal discs. These discs act as shock absorbers for the spine and help to keep the spine flexible. When the discs are damaged it is called a herniated disc. This may be because the disc bulges or breaks open or it may slip out of place. The most common location of a herniated disc is in the lumbar spine (the lower back). At Ortho Sport & Spine Physicians, we are the expert herniated disc treatment physicians. Our team of experienced interventional spine physicians and orthopedic spine specialists specialize in finding effective, minimally invasive solutions to complex spine and back problems like herniated discs.
Herniated discs are caused by different reasons. One is normal wear and tear of the discs in the back. As people age, the discs dry out and become less flexible which often causes pain. Injury to the spine can cause tiny cracks in the hard outer layer of the discs. These cracks allow the thick gel inside the discs to be forced out, causing the discs to bulge or break open. The pressure of herniated discs causes them to press on nerve roots and cause pain, numbness, and weakness in the area of the body where the nerves travel. Sciatica is the most common symptom of a herniated disc. This is when a disc in the lower back causes pain and numbness in the buttock and down the leg. At Ortho Sport & Spine Physicians, our doctors are dedicated to helping patients with herniated discs find long-term relief from pain and other symptoms.
Our doctors at Ortho Sport & Spine Physicians offer a variety of minimally invasive treatments including conservative, non-surgical treatments. For those who do not find relief from these non-surgical treatments, surgery may be considered. We are proud to be one of the Southeast's leading providers of minimally invasive endoscopic spine surgery for herniated discs. If you are in need of relief from the pain and symptoms associated with a lumbar herniated disc, you can trust the expertise of the physicians at Ortho Sport & Spine Physicians. We are dedicated to helping you stay active and live your best life.
Posted on behalf of Ortho Sport & Spine Physicians