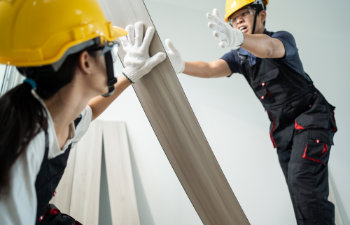 A work-related injury can happen at any time and affect your income or ability to work. Many of these injuries can be prevented to help keep you safe and healthy. Here are three orthopedic tips to help you prevent the most common work-related injuries.
Take Frequent Breaks to Prevent Overexertion
Repetitive motions and heavy lifting can put excess strain on vulnerable areas of your body. Overexertion can lead to debilitating back and joint injuries. To prevent these work-related injuries, take frequent breaks to relieve some of the pressure. Take a few moments to stretch or rehydrate. If you can, invest in ergonomic equipment, especially if you are sitting in front of a computer all day.
Wear Protective Equipment
Moving objects in the workplace can lead to serious injuries. Workers can pinch fingers or get crushed by equipment. These work-related injuries can be prevented by wearing protective equipment like safety glasses, hard hats and steel-toed shoes. Wear gloves when working with chemicals. Make sure any personal protective equipment you use is free from scratches, dents or other forms of damage. Follow the safety procedures according to your workplace regarding personal protective equipment and address any safety concerns with your employer.
Be Aware of Safety Hazards
Many work-related injuries happen from not paying attention to safety hazards in the workplace. One common injury is slips and falls from ladders or wet floors. Wear non-slip shoes while at work and use safety harnesses when working on tall ladders or other equipment. Avoid distractions that can prevent you from being aware of your surroundings. Keep your working area free from clutter and put away equipment in the proper places to help protect others.
Rehabilitation Treatment for Work-Related Injuries
If you have experienced work-related injuries, rehabilitation treatment can help you recover faster with a treatment plan that is customized for your specific needs. The team of orthopedic specialists at Ortho Sport & Spine Physicians can help you get back to work and achieve long-term relief from your injuries. The state-of-the art rehabilitative care you will receive can help you achieve better outcomes with the personalized attention you deserve. Call to make an appointment today.
Posted on behalf of Ortho Sport & Spine Physicians