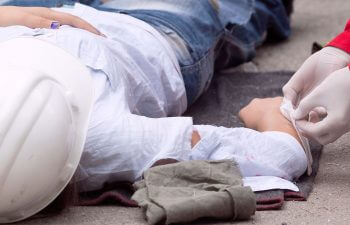 Work-related injuries are very common. More than 85% of them involve slips, trips and falls, overexertion and bodily reaction and contact with objects and equipment. Some injuries are a result of an unexpected occurrence, such as falling off a ladder or trying to catch a falling object. Others are common to certain types of jobs. Rehabilitation of the work-related injury can ease discomfort, increase recovery time and get you back to work sooner.
Overexertion and Bodily Reaction Injuries
Lifting, pushing, turning, holding, carrying or throwing are examples of overexertion activities. It is the largest group of work-related injuries, and the back is usually the site of injury. If care is not taken, these movements can result in strained or sprained muscles. These are considered non-impact injuries. They are the result of excessive physical effort. For example, lifting a heavy object can damage back muscles.
Repetitive motions can result in stress and strain on muscles without necessarily exerting strenuous effort. Certain jobs tend to lead to these types of injuries. Carpal tunnel syndrome is an example. Repetitive motions of the hand and arm can result in pressure being exerted on the median nerve. Over time, this can cause problems in the hand and wrist.
Impact Injuries and Contact with Objects and Equipment
Getting hit by a piece of equipment or an object can result in a variety of physical injuries. Head injuries can cause concussion or traumatic brain injury. These types of injuries can range from mild to severe. In this group, usually cuts, lacerations and puncture wounds are prevalent.
Other injuries in this category include being squeezed, pinched or compressed in equipment or machines. This can happen with stationary objects or between shifting objects.
Slips, Trips and Falls
Among the top three groups work-related injuries, you don't need to fall down to get hurt. Catching yourself to keep from falling can also result in injury. These injuries are most likely to cause muscle sprains and strains.
Rehabilitation for Injuries
A comprehensive approach for rehabilitation of work-related injuries provides the best outcomes. When physicians, chiropractors, physical therapists and other ancillary services are combined in caring for the patient, the outcomes are better and there is continuity of care.
An individualized treatment plan ensures that your specific level of injury is addressed adequately. A thorough physical examination, assessment of the injury and accurate diagnosis are key components in determining treatment goals and options.
Posted on behalf of Ortho Sport & Spine Physicians