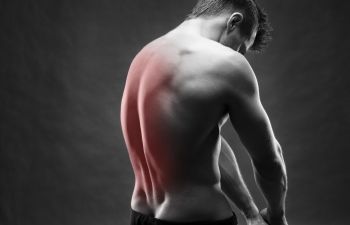 Resolutions for better health are often at the top of the list each New Year. And, 2020 will not be an exception as millions resolve to exercise, get in shape, eat healthy and take more time for relaxation. How about resolving to keep your back healthy? A good portion of the population experiences back pain, and statistics show that just about everyone will have a degree of  back pain at some point in life. By doing a few things differently in your daily life, you can minimize opportunities for back pain to get you down.
Conditions Leading to Back Pain
Muscle or ligament strain is one of the most common causes for back pain. Repetitive lifting of heavy objects puts extra strain on muscles and ligaments. A sudden awkward move in the wrong direction can also cause problems.
Arthritis is another top reason so many people experience back pain. Osteoarthritis in the lower back sometimes causes spinal stenosis. This is a condition in which the space around the spinal cord becomes narrow, causing irritation to the nerves. Osteoporosis also can lead to back pain if compression fractures occur as a result of porous and brittle bones.
Taking Care of Your Back
Incorrect lifting is the source of many back injuries. This can be avoided when you learn how to lift correctly:
Squat low, bending at your hips and knees
Keep the load close to your body
Straighten your legs and let them carry the weight of the load
Avoid twisting or turning your body while holding the object, lead with your feet
Lower the object by reversing the process
You should not lift heavy objects any higher than shoulder level, as this could cause injury.
Exercise will keep your core muscles, and thus your back strong and healthy. Low-impact aerobic exercise like walking and swimming are ideal. Your doctor may also have some suggestions for you. You want to build your muscle strength and flexibility.
If you are overweight, lose the excess pounds. Maintaining a healthy weight is important for back health. Excess weight puts extra strain on these muscles.
Eat healthy foods. Your diet has a lot to do with how much inflammation your body contends with. Keep it at a minimum by eating those foods that promote health. Avoid sugary foods with empty calories. Individuals with osteoarthritis and osteoporosis will want to be mindful of their food choices.
When you do experience back pain and over-the-counter medications do not seem to help, it is time to check in with a doctor. Ortho Sport & Spine Physicians are experts in back care. Give us a call to schedule an appointment and we will help you feel better.
Posted on behalf of Ortho Sport & Spine Physicians