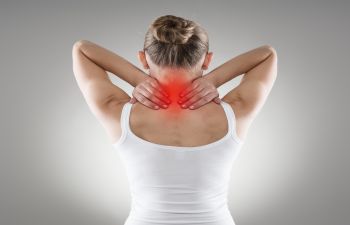 Warming up before exercise is always a good idea. That is, unless your warmup exercises are putting you at risk of injury. This is the case for individuals who do neck rolls. It is not uncommon for people to perform this exercise when warming up or to relive stress in the neck, shoulders and upper back. The motion requires tucking the chin down then rolling the head in a circular motion, which includes moving it to the side, back, other side and to the front again.
While this may seem like an appropriate exercise for warming up or reducing neck stress, it is risky. Individually as exercises, the motions are fine. Moving the head from neutral to a tucked position back to the neutral position a few times, putting your head back and down to front, no problem. From side to side or ear to shoulder when performed properly as individual movements, none of these are problematic.
Neck Roll Danger
The neck roll involves all these maneuvers in one action, which can do harm to the cervical spine. Often, the neck roll is performed quickly. Three different ranges of cervical motions are combined. The potential for hyperextension of the cervical spine and compression are high. This movement is risky in terms of cervical spine health. Basically, neck rolls can cause instability and injury.
With a neck roll, the head and neck are moved into extreme positions that are far beyond the normal range of motion for the cervical vertebrae. Stretching the neck muscles by tilting the head in one direction then returning to the neutral position is far safer and more effective.
When muscles in your neck and shoulder get tight, doing appropriate stretches can work wonders. It is important to maintain proper cervical posture when you stretch out the muscles. Keeping within normal parameters of movement is also important.
Ortho Sport & Spine Physicians is here to help if your neck pain becomes unmanageable. Contact us to schedule an appointment.
Posted on behalf of Ortho Sport & Spine Physicians