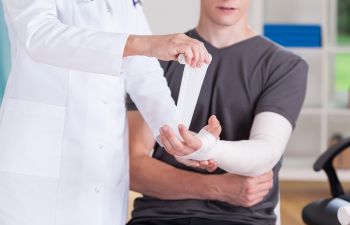 The next time you are faced with an orthopedic emergency, think of Urgent Care before the Emergency Room. Ortho Sports and Spine Physicians offers leading urgent care visits to accommodate their patients in the Atlanta area. With diagnostic technology and imaging on-site, they can handle your injury quicker than waiting hours at the local hospital Emergency Room.
The same physicians that you trust will help you with urgent care alternatives for sprains, fractures, tears, joint dislocations or other musculoskeletal injuries.
A Better Alternative to Treat Injuries
Having an ortho emergency is a stressful experience. Let our expertise lighten the load with lower wait times and quicker treatment turnaround times. X-rays and MRIs are available to you or your loved ones for your urgent care visit. Our care includes diagnostic and treatment services which include available medications if needed, and casting or braces that may be applied to relieve your pain and initiate your treatment plan.
Our urgent orthopedic care services not only save patients extra expenses from an ER visit, but also ensure that a specialized and appropriate treatment plan is immediately put in place for faster healing.
Call Now to See If We Can See You Right Away
If you have an emergency orthopedic concern, please contact us immediately. We can best direct and triage your complaint, approving you to visit our urgent care or referring you to the appropriate hospital E.R. Ortho Sport & Spine Physicians can communicate with your primary care physician for the best inclusive treatment plan afforded to you. We are where Atlanta turns for same-day orthopedic treatment.
The next time you find yourself or a loved one in need of emergency orthopedic care, remember our Urgent Care clinic where you can trust the expert team at Ortho Sport & Spine Physicians.
Posted on behalf of Ortho Sport & Spine Physicians