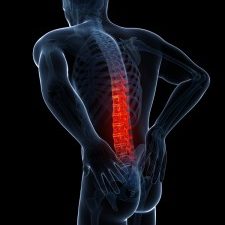 The New Year is approaching fast, and this means you may have already begun considering your resolutions. If so, make sure to include "be more mindful of back and spine health" to your list.
It may sound silly, but taking care of your spine is critical to maintaining and improving your overall health. Your spine supports nearly all bone and muscle systems in your body, and is also susceptible to serious wear and tear if not properly cared for.
These healthy habits can set you up for optimal back and spine health in 2017.
Maintain a healthy weight. Whether you're dealing with chronic back pain or a more specific and acute injury, added weight can make the problem worse. Unhealthy weight gain can further strain the muscles and ligaments in the back, prolonging your recovery and pain.
Kick the sugar habit. Caffeine and alcohol in moderation, too. In some studies, sugar and processed foods have been shown to trigger pain-causing inflammation. This is because sugar, and other substances like caffeine and alcohol, increase the production of cortisol in the body, causing connective tissues to flare up, sending pain signals to your brain.
Get moving. We all tend to add exercise to our resolution lists, but this time you can add it knowing it means big benefits for the health of your back and spine. Exercise supports the muscles surrounding the spine, keeping it better protected from injury. Exercise also helps keep our weight in a healthy range, encourages a better night's sleep, and reduced stress — all big boosts to back health. Keeping your core tight also helps properly support and protect your back, so don't forget to throw in a good ab workout, too.
Give your back a break. Our backs carry a heavy load each day, and just like any other group of bones, muscles, and tissues, they need the opportunity to rest. Make sure you have a mattress and pillow that comfortably support your spine, allowing it to rejuvenate overnight. Also, go easy on bad-back habits such as poor posture, sitting for too long, and improper lifting and bending.
Treat yourself. Among many other benefits, opting for a massage is a great way to care for your back and spine. Massage can help increase blood flow and circulation, decrease tension and tightness, help circulate vital nutrients to the spine, and increase "feel-good" endorphins shown to combat pain.
Here's to a strong, pain and injury-free 2017!
Posted on behalf of Ortho Sport & Spine Physicians