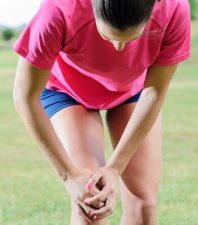 Soft tissue injuries involve damage to the ligaments, tendons, and muscles. These injuries include sprains, strains, bursitis, tendonitis, and contusions. Ligaments are strong bands of fibrous tissue that connect bone to bone and work to stabilize a joint. Tendons are strong fibrous bands that attach the muscle to the bone. Injuries can result from a fall, a severe twisting motion, repeated overuse, or during an accident (e.g. car crash). At Ortho Sport & Spine Physicians, we know that these soft tissue injuries can cause a great deal of pain after they happen and while they are healing. We are dedicated to offering our patients with a one to one physician/patient relationship to find the root cause of the problem so that it can successfully be treated and so that it can heal properly.
Many people find relief from their soft tissue injuries using the RICE method of treatment: (R) Rest, (I) Ice packs, (C) Compression, and (E) Elevation. Rest and ice packs can help reduce the pain associated with the injury and reducing swelling within the first 24-48 hours. Using an elastic bandage (compression) and keeping the injured area elevated with also contribute to a reduction in swelling. However, this at-home treatment method does not work for every injury. If a popping sound was heard when the ligament was injured, if there is immediate swelling and the inability to bear weight on the injured area, medical treatment must be sought.
At Ortho Sport & Spine Physicians, we take a different approach to practicing medicine. Our low patient to provider ratio allows us to give individualized care to each of our valued patients. We take the time to make an accurate and specific diagnosis, and then we will recommend a customized treatment plan with your individual goals and needs in mind.
If you have received a soft tissue injury, please contact us today to schedule a consultation with one of our physicians. We look forward to working with you to find the relief you need to stay active and enjoy your best life.
Posted on behalf of Ortho Sport & Spine Physicians