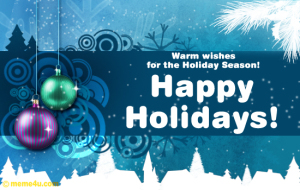 It's the most wonderful time of the year — filled with holiday parties, delicious meals, and quality time with family and friends. Unfortunately though, some of our favorite things about the season can be detrimental to the health of our back and spine.
Between last-minute shopping, and trying to plan the most Pinterest-perfect holiday party, it's easy to get overwhelmed and over-stressed by that long list of to-dos. But if it goes unchecked, high levels of stress can mean bad news for your back. Studies have shown that chronic stress increases pain levels due to its effects on brain chemistry. Stress also damages your immune system, interfering with your ability to heal if you suffering from a pre-existing spinal condition.
Instead of getting bogged down by stress, manage your expectations and take it easy. Rest when you feel like you need to, delegate certain tasks if you can, and remember that sometimes self-care is the best gift you can give to those you care about.
Another staple of the season is all the festive food – plates piled high with pies and cookies, ham with cranberry sauce. We're not denying that it's delicious, but the added weight that can result from over-indulging can be damaging to your back and spine. Excess weight strains back muscles; it also damages those gel-filled spinal discs and puts pressure on the vertebrae.
We're not asking you to forego your favorite holiday foods; just make sure to make some time for exercise. Even a quick ten-minute walk around the neighborhood after dinner can help to not only keep your weight in check, but also help reduce pain and inflammation.
No matter how you choose to celebrate, all of us here at Ortho Sport & Spine Physicians would like to wish you and yours a very Happy Holiday season!
Posted on behalf of Ortho Sport & Spine Physicians