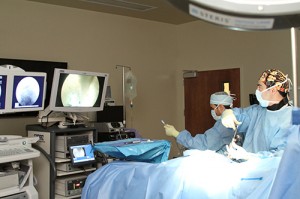 These days there are many options for those who are suffering from chronic and/or acute back pain. While just 20 years ago doctors performed extensive back surgeries to try to relieve pain, today surgeons are able to use minimally invasive approaches to help those with acute and chronic instabilities caused by degenerative changes in the intervertebral discs. At Ortho Sport & Spine Physicians, our physicians provide patients with minimal invasive spine stabilization procedures. Our physicians are double board certified Intervention Spine specialists who are highly trained and qualified to perform minimally invasive surgical techniques.
The goal of all of the physicians at Ortho Sport & Spine Physicians is to help patients achieve long-term pain relief and return to an active and healthy lifestyle. A spine stabilization procedure is an alternative to open spine fusion surgery. The procedure involves the insertion of a flexible rod into the spine, and a device consisting of external spacers is attached to either side of the affected vertebra. The device is designed to stabilize the joints, helping to keep them in a more natural position as opposed to the traditional, rigid rod that is inserted during open spine fusion surgery. This stabilization is most appropriate for patients with spinal stenosis and spondylolisthesis as well as some patients with painful disc degeneration.
For those who want to maintain an active lifestyle and who want to find relief from their pain, spine stabilization is an option. The interventional physicians at Ortho Sport & Spine Physicians can expertly perform minimally invasive spine stabilization procedures. If you would like to know if you are a candidate for this procedure please contact us to set up a consultation with one of our spine physicians.
Posted on behalf of Ortho Sport & Spine Physicians