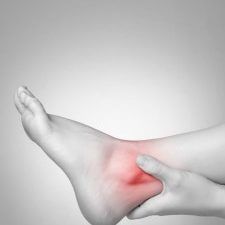 A sprained ankle is one of the most common injuries for athletes and non-athletes. While a sprained ankle is a common sports injury, many adults and children suffer from this injury while walking on an uneven surface. The ankle bones and ankle joint are held together by ligaments. These ligaments protect the ankle joint from abnormal movements such as twisting, turning, and rolling of the foot. While ligaments are an elastic structure, meaning they have some give and take in them, they can only take so much stretching and straining until they are forced beyond their normal ranges. When the ligaments are stretched beyond their normal range or in an abnormal position a sprain occurs.
At Ortho Sport & Spine Physicians, we take your sprained ankle seriously. While it may be one of the most common injuries, that does not mean that it is not incredibly uncomfortable to deal with. Our double board certified physicians can accurately diagnose a sprained ankle and can tell you the grade of your ankle sprain. The amount of pain that each patient feels will vary depending on the amount of stretching and tearing of the ligaments that occurred during injury. We offer complete care to those suffering from an ankle sprain. At Ortho Sport & Spine Physicians, we treat every patient as an individual. Once a patient's diagnosis is complete, we will recommend a customized treatment plan based on his or her specific goals and needs. Our practice caters to elite and professional athletes as well as those who take enjoyment from recreational activities.
Ortho Sport & Spine Physicians uses the most advanced and minimally invasive treatments available to achieve amazing results for our patients with ankle sprains. If you have injured your ankle, please contact our practice today so that we can begin your road to recovery. Our goal is to help you stay active and live your best life, and we can start that process as soon as you call.
Posted on behalf of Ortho Sport & Spine Physicians