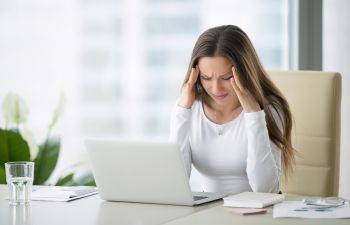 At Ortho Sport & Spine Physicians, we specialize in providing expert rehabilitation care for individuals who have experienced workplace injuries. When most people consider workplace injuries they think about heavy or improper lifting, faulty workstation set-up, improper safety precautions and unsafe conditions for working. These are all common causes of injuries in the workplace. Stress is a less common reason people get workplace injury, but it cannot be dismissed as a contributing factor.
Work is stressful; if it weren't stressful then it would probably be considered play. Wouldn't it be wonderful to have a job that fuels your every emotional and physical need and you could get paid for it? This is not the case. Most work environments and jobs are the source of a great deal of stress. This stress may be related to uncertain job security, relational tensions, conflict between competitors, overworking or downsizing are just a few sources for stress in the workplace.
While the stress cannot necessarily cause physical injury, it can cause depression, anxiety and sleeplessness. If you experience these stress related symptoms it can cause injury rates to increase. If your body endures prolonged or chronic stress you may suffer from not being able to focus on proper techniques and mechanics for your workplace and it may lead to mistakes or carelessness that may cause injuries. This is why it's important to address your stress levels and physical surroundings in your workplace to prevent workplace injury.
If you have been injured at work, Ortho Sport & Spine Physicians specializes in Worker's Compensation cases and offers proven and effective treatments. Contact us today to schedule your consultation.
Posted on behalf of Ortho Sport & Spine Physicians