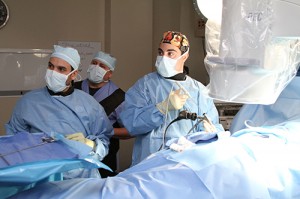 When you're out of the game and stuck on the sidelines because of pain, it may seem like there's nothing you can do to speed up the recovery process. If you've endured a major injury to the shoulder, elbow, hip, knee or ankle because of athletic activities, Ortho Sport & Spine is here to help you get back in the game as quickly as possible.
Professional Care for Professional Athletes
At Ortho Sport & Spine, our physicians are Double Board Certified Atlanta Sports Fellowship Trained Surgeons. In fact, some of the physicians and surgeons in our office have treated athletes in the NBA, NFL, NHL, and numerous collegiate organizations.
Yes, we care for individuals that play sports for a profession, but we also help the everyday recreational athlete as well as high school students. We offer the same great care for everyone½regardless of what your background story is, how fast you run, or what your stats are. The same end goal is always our mission: Get you out of pain and help you fully recover from your sports related injury.
Cutting-Edge, Non-Surgical Treatments
We understand how intimidating it can be to anticipate surgery as part of your athletic recovery. At Ortho Sport & Spine, we implement state-of-the-art techniques including non-surgical therapies to encourage rapid healing and optimal recovery. You may just be surprised at how much sports medicine has transformed over the past decade!
If you've found yourself sitting out from your favorite pastime, it's time to give Ortho Sport & Spine in Atlanta a call. No referral is necessary!
Posted on behalf of Ortho Sport & Spine Physicians