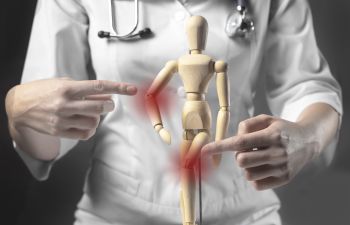 As we age, the joints will begin to suffer wear-and-tear. This process occurs at varying rates depending on the individual's lifestyle, health condition and various hereditary factors. Additionally, very few people escape experiencing joint problems at some point in life.
There are common joint conditions that will affect millions of Americans – most of which develop in older aged adults. While younger people can develop poor bone health, older age is factor that is shared by most sufferers.
Arthritis
There are over 100 forms of arthritis that can affect any of the joints. Sufferers typically experience pain, inflammation, stiffness and immobility. These conditions can arise due to wear-and-tear of the joint, bacterial infection, autoimmune conditions or as an inherited genetic predisposition toward developing rheumatism.
Gouty arthritis develops due to crystals that form in the soft tissues of the joints. You will suffer from inflammation and pain. Sufferers of this type of arthritis usually first develop symptoms in the big toe. As uric acid is the cause of gouty arthritis, which is present in higher levels in women, men are less likely to suffer from this condition.
Osteoarthritis results in degeneration of the affected joint. This is the most common type of arthritis, impacting more women than men. The joints that bear the most weight or absorb greater forces (such as the knees) are more likely to develop osteoarthritis.
Joint Injury & Trauma
Another common cause of joint deterioration is injury or trauma. Sports enthusiasts often suffer injuries during competition. Failing to seek treatment or allowing the joint to rest can accelerate wear-and-tear. The increased forces that a joint absorbs during athletic pursuits or other strenuous activities will eventually take a toll on joints, muscles, tendons and soft tissues.
If you have suffered a joint injury in an accident or physical attack, deterioration may occur. Whether tendons, muscles, bones, cartilage or tissue are damaged, seeking reparative treatment is crucial for your future health.
Consult with Ortho Sport & Spine Physicians today to discuss acute or chronic joint pain. We are committed to providing our patients with fast and effective solutions, nationwide. Call your nearest offices today to book an appointment.
Posted on behalf of Ortho Sport & Spine Physicians