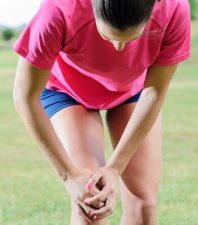 Weekend warriors, professional athletes and kids from elementary to high school all have something in common. They are at risk for certain sports-related injuries. Being active is important to your overall well-being. Not only does it keep you in shape, it also helps keep your brain functioning well. As exciting and energizing as these activities can be, there can be a cost in the form of an injury. Different activities lend themselves to certain predictable sport injuries.
Sprains and Strains
Participants in most sports can expect to receive a sprain or strain injury at some point. Falling, twisting or getting hit can result in damage to a ligament, which is the connective tissue in joints. These injuries are sprains. A strain occurs when a muscle or tendon is stretched beyond its normal range.
Occasionally, a strain can result in tearing of the tissue, which can be very painful. A person who participates in any sport runs the risk of getting a sprain or strain. Fortunately, for the most part, these are minor injuries and easily treated, though they take time to heal.
Knee Injuries
One of the most common knee injuries is the ACL (anterior cruciate ligament) tear. Cartilage tears, dislocation and fractures are also fairly common. These injuries can occur with most sports as well. Your knees endure a lot of wear and tear when you are active. Some sports, such as rugby and football, may be more likely to produce knee injuries.
Fractures
Playing contact sports safely requires padding and appropriately fitted safety gear. Even with these items, fractures are often a part of the game. Legs, feet and arms are the most vulnerable parts of the body. Some athletes "play through the pain," not realizing that doing so can increase the risk for fracture. Ignoring the pain of a sprain or strain leaves the bone more vulnerable.
Concussion
This is another injury that is very common with contact or impact sports. It is also common in swimming. Swimmers may hit their head on the wall of the pool when racing, and in choreographed or synchronized swimming, bumping heads is a regular occurrence. Concussion can be a serious injury.
Taking proper precautions by using well-fitting safety gear such as padding, helmets and mouthguards can help minimize the risk for some sports injuries. Keeping your muscles strong and flexible and warming them up before playing will help. Good technique is also important.
If an injury should occur, be sure to see a well-qualified doctor. Those who specialize in sports injuries can provide exceptional care and give you pointers on how to avoid further injury.
Posted on behalf of Ortho Sport & Spine Physicians