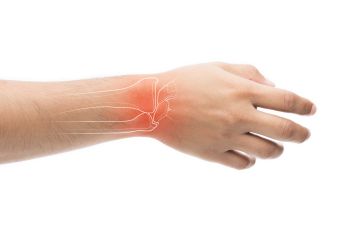 There is an old saying, "You never miss the water 'til the well runs dry." Likewise, you never realize how much you do with both of your hands until one is out of commission. An injury to your wrist can put you on the sidelines of many things, not just your favorite sports.
Common Injuries Affecting the Wrist
One of the most common injuries to this part of the body is a sprain. Ligaments connect your bones to one another. When a ligament is damaged, the severity of the damage dictates the type of treatment needed for recovery.
Wrist sprains are common. They are most likely to happen when you are falling forward. For example, if you trip or fall while running your reflex is to put your hands out in front of you to break the fall. This motion will land you on the palms of your hands and, should your wrist bend backwards, the ligaments connecting the bones there can be stretched or even torn, resulting in a wrist sprain.
Bone injuries can also occur in the wrist. Broken fingers are common for a number of reasons; however, wrist fractures are not quite as commonplace. Wrist fractures can go unnoticed because the injury usually occurs as a result of a fall and is often mistaken for a sprained wrist.
Tendon injuries are common to the wrist, particularly when the hand is overused. This can happen in sports such as tennis and other racquet sports.
Scaphoid Fractures
The scaphoid bone is just one of the eight bones comprising the wrist. This is where most wrist fractures take place. When the wrist is severely extended backward in a fall or accident, it is likely that the scaphoid bone will break. Since there is little swelling and no obvious deformity, such as when you break a long bone, this fracture often goes untreated until the discomfort causes the individual to seek medical attention. This type of break is common in sports injuries and vehicle accidents.
Extensor Carpi Ulnaris (ECU) Tendonitis
A common sports-related injury, ECU tendonitis occurs due to repetitive twisting and backward flexion of the wrist. It causes inflammation of the tendon that runs along the back of the wrist. Basketball players and those who play racquet sports are most prone to this type of injury.
Your sports-related injury is in good hands with the doctors at Ortho Sport & Spine Physicians. We have the expertise and experience to provide accurate diagnosis and effective treatment. You can depend on us when you get knocked out of the game due to an injury. Contact us to schedule an appointment.
Posted on behalf of Ortho Sport & Spine Physicians