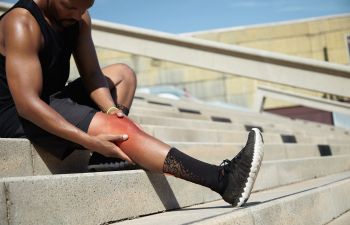 It is hard to tell why you are having knee pain; it could be a sprain, strain or tear. There can be several tears that happen to the knee cap. The knee is the largest joint in the body. It consists of ligaments, bones, cartilage and tendons. Four ligaments attach to the thigh bone, or femur, to the lower leg bones, called the tibia and fibula. These ligaments keep the knee stable when a person walks, jumps or bends. The pain of a tear in the knee can be excruciating, limiting your ability to walk. You do not have to suffer from extreme pain. Ortho Sport & Spine Physicians have treated this condition for years and you can trust their skill and expertise to help get you back on the mend.
Cruciate Ligament Tears
The cruciate ligaments are two strong, short ligaments located in the center of the knee joint. These connect the femur to the tibia. The anterior cruciate ligament, or ACL, is close to the cruciate, or PCL. Together, these ligaments help stabilize the knee.
An injury to the ACL is the most common type of knee tear and frequently occurs as the result of athletic activity. Sports that require sudden changes in direction like soccer and basketball can lead to too much force being placed on the ACL, causing it to tear.
Collateral Ligament Tears
The collateral ligaments are long cords of soft tissue located on each side of the knee. These ligaments hold the thigh and lower leg bones together and form a support for the tibia, one of the lower leg bones, in position and prevent it from moving side to side. If the ligament tear is severe, you may feel a sudden weakness on one side of the knee.
Meniscus
The meniscus tear is a common injury in which twisting causes certain tissue in the knee to break apart. This can be a sudden onset or a repeat motion tear. A torn meniscus causes pain, swelling and stiffness. Treatment can include rest, ice and medication. Time will tell if this is enough to relieve the discomfort, causing the body to heal on its own. If the pain persists, a torn meniscus requires surgical repair.
Knee pain should not go untreated. Proper diagnosis and treatment are necessary to prevent further damage. Contact Ortho Sport & Spine Physicians for a consultation and help to achieve a pain-free life.
Posted on behalf of Ortho Sport & Spine Physicians