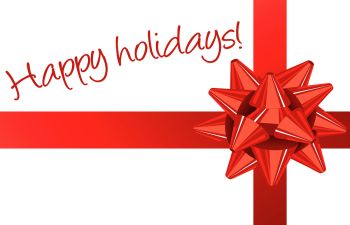 This Holiday season may be a little different from those in the past, but it is fairly safe to assume that people will continue the tradition of gift giving. Some of those gifts may be large, some may be heavy and some may be large and heavy. Now is the time to take special notice of proper back care.
A Force to Be Reckoned With
Most people have no idea how much strain they are putting on their lower back muscles when they bend down to pick up an object. If you picture your back as a lever, a certain amount of pressure is placed on it when you pick up an object. If the fulcrum of the lever is in the center, the amount of pressure needed to pick up the object is the same as the weight of the object. A 15-pound object will exert 15 pounds of pressure. But it is not quite that simple.
When the fulcrum is not in the center and shifted away from the object, more pressure is needed to lift it. Your waist acts like a fulcrum at a 10:1 ratio. This means when you lift a 10-pound object, 100 pounds of pressure are put on your back. Except, you are not just lifting that 10-pound object. You are also lifting the weight of your upper body. This means hundreds of pounds of pressure are being exerted on your lower back. No wonder you have a sore back!
One, Two, Three, Bend at the Knees – Then Lift
When you are lifting objects, take these precautions to save your back:
Give your body a wide base of support by spreading your feet at least shoulder width apart.
Get as close to the object as you can.
Bend at your knees. Avoid bending at your waist.
Tighten abdominal muscles when lifting the object and when setting it down.
Hold it close to your body.
Use the muscles in your hips and knees to lift, not your back muscles.
Do not bend forward as you move to a standing position.
Straighten up and using your feet, turn your body if needed, but do not twist.
Avoid twisting when picking up, carrying and setting the object down.
Keeping your back straight, use your knees and hips again and squat when setting the object down.
If you follow these tips when lifting those heavy gifts, you will avoid having a miserable 'hollerday' and have a happy holiday instead!
The team at Ortho Sport & Spine Physicians wishes you and yours a safe and Happy Holiday!
Posted on behalf of Ortho Sport & Spine Physicians