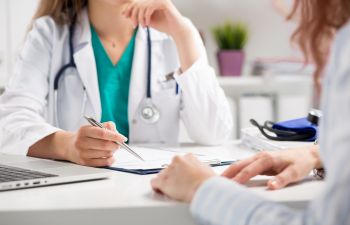 Ortho Sport & Spine Physicians in Atlanta offers expert treatment if you suffer from Behcet's Disease. This disease (or syndrome) is a rare, chronic, autoimmune, auto inflammatory disorder. The origin of Behcet's Disease is unknown, but it is thought to be caused by vasculitis. This can cause harm to your blood vessels throughout your body. It manifests itself in many ways, but is usually accompanied by oral ulcers, ocular inflammation and genital ulcers, arthritis and skin lesions.
If you're suffering from Behcet's Disease there is treatment available to you depending on your symptoms. Treatment is geared toward reducing your symptoms and preventing further complications. An important practice for patients with Behcet's disease is that of tracking or logging.
Patients with Behcet's Disease can help with their chronic illness by tracking everything related to the illness. Your symptoms and even medications can change rapidly. If you track your symptoms, dates, medications, treatments and anything else related to the disease it is helpful so you can provide accurate information to your healthcare providers.
Here are is list of suggested information to log:
Symptoms (list severity, location and longevity)
Medications (discontinued ones as well)
Side effects to any medications
Surgery or treatment times and locations
Future appointments on a calendar
At Ortho Sport & Spine Physicians we will help you find relief from your symptoms of Behcet's Disease. Keeping records of your progress can be helpful since most patients who suffer from this disease see a variety of different types of doctors. Ortho Sport & Spine Physicians is committed to working to maintain a continuity of care among the doctors to ensure that you receive the most effective treatment possible as we work collaboratively for you.
Posted on behalf of Ortho Sport & Spine Physicians