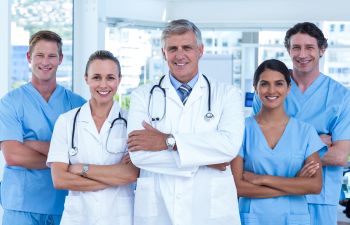 This winter has been a history-making, record-breaking one, and we can thank the Winter Olympics for a large part of that! Did you see the unified Korean women's ice hockey team take to the ice for the opening preliminary match against Switzerland? It marked the first time the Republic of Korea and the Democratic People's Republic of Korea came together to field a team at the Winter Olympics. The capacity-filled hockey center cheered in unity for their team, but you have to imagine the cheers had much deeper meaning than just a hockey game.
Unity is a wonderful thing. When countries, leaders, people and organizations join together for the greater good amazing things happen. Our physicians at Ortho Sport & Spine value unity as well.
Unified with You
Ortho Sport & Spine values you. That's why we have a lower patient-to provider ratio. We limit the number of patients that we see each day. This priority enables us to spend more time with you and each of our important patients. We have more time to talk about your medical history, conduct a more complete physical examination and to understand your unique challenges and goals for you treatment.
Unified with other physicians and ancillary services
Unification at Ortho Sport & Spine is accomplished through collaboration. We work with other physicians and ancillary services to co-manage  your care each patient's care that enters our facility. We value continuity of care so we work closely with physicians, chiropractors, and physical therapists to achieve optimal outcomes for you. Contact an Ortho Sport & Spine Physicians office today!
Posted on behalf of Ortho Sport & Spine Physicians