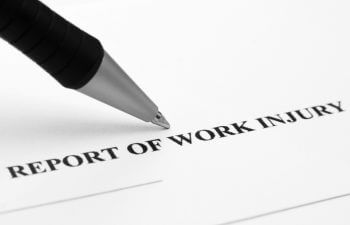 If you've been injured at work, Ortho Sport & Spine understands the heavy impact this can have on your life and work. We specialize in providing you with expert rehabilitation care with a high emphasis on your overall experience. We work with other physicians, chiropractors and other ancillary services such as physical therapists to co-manage your treatment process.
While Ortho Sport & Spine Physicians can provide you with the treatment you need, we'd like to remind you of some important steps to take immediately after your injury.
If you are injured on the job you should report it to your supervisor as quickly as possible. If it is physically possible, you should do this is writing. There is a filing deadline for on the job injuries called the workers' compensation statutes of limitation. In Georgia, it is within one year of the accident date. You can read more about Workers' Compensation Statutes of Limitations by state here.
Depending on the nature of your injury or illness, you should seek medical care immediately. In most states you are referred to a doctor that is paid for by your employer.
You will most likely then need to fill out a workers' compensation claim, which acts as a request for benefits. Your employer will offer this form to you.
Ortho Sport & Spine Physicians specializes in Worker's Compensation cases. We offer a proven and effective treatment plan for you if you have been injured at work. We accept new patients and we work with many Workers' Compensation and health insurance providers. Call us today.
Posted on behalf of Ortho Sport & Spine Physicians