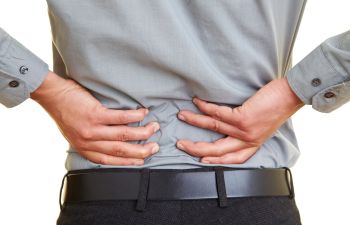 Sciatica refers to symptoms that are caused by irritation or compression of the sciatic nerves. While some people refer to sciatica as a condition, it is actually a combination of symptoms that are linked to the sciatic nerves. There are multiple back and spine conditions that can cause sciatica and associated symptoms. If you have sciatica, also called lumbar radiculopathy, you may need treatment for what is causing the irritation of the sciatic nerve to give you relief.
What Are the Symptoms of Sciatica?
The sciatic nerves extend from the lumbar spine down through the pelvis into each leg. These are the largest nerves in the body, and they impact the lower back, hips and legs. When the sciatic nerve is compressed (radiculopathy), it can cause specific symptoms, usually only on one side of the body. Symptoms of lumbar radiculopathy include:
Lower back pain
Radiating pain into the hip and leg
Weakness in the hip or leg
Tingling or numbness in leg
Anything that puts pressure on the sciatic nerve on either side of the body can cause sciatic symptoms. Uncovering the source of compression and irritation can reveal the best way to treat sciatica and offer relief for patients with this painful and debilitating issue.
Causes of Lumbar Radiculopathy
There are several spine and back disorders that can impact the sciatic nerves. Nerve compression or irritation can occur in the lumbar spine where the nerve roots exit, or anywhere in the lower back and hip area. Some of the possible causes of sciatica or lumbar radiculopathy include:
Degenerative disc disease
Herniated disc
Spinal arthritis
Lumbar back muscle spasms
Spinal tumors
Infection
Spine injury
There are five nerve roots that exit the spine and combine to make the sciatic nerves. If any of these nerve roots or the sciatic nerve itself are compressed, it can cause some of the symptoms of sciatica.
If you are experiencing sciatica symptoms, relief begins with a diagnosis of the cause of your nerve irritation. Come see our spine experts at Ortho Sport & Spine Physicians for an accurate diagnosis and personalized treatment plan to give you relief from lumbar radiculopathy symptoms.
Posted on behalf of Ortho Sport & Spine Physicians