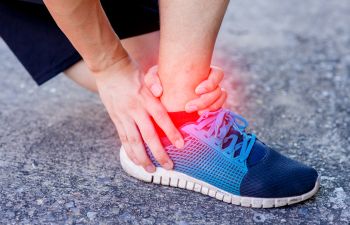 Do you have heel pain, especially when you first get up in the morning? This is one of the common symptoms of plantar fasciitis, an inflammation or injury to the plantar fascia ligament that connects the heel bone to the toes. Plantar fasciitis is a common injury for runners and athletes, but it can also occur in those who are on their feet for long hours or wearing poor shoes. If you have plantar fasciitis, treatment can give you relief and get you back on your feet again.
Symptoms of Plantar Fasciitis
Heel pain about two inches in from the end of the heel when you take your first steps after sleep or rest is a common symptom of plantar fasciitis. During sleep or rest, the foot tends point downward and the plantar fascia ligament tends to tighten up from the injuries or inflammation that causes plantar fasciitis. When you stand up or walk after sitting or sleeping, the foot flexes and stretches the ligament, causing stabbing pain in the heel, which often goes away after a few steps. Other symptoms of plantar fasciitis include:
Pain in heel after standing or walking for long periods
Pain in the arch of the foot
Swollen heel
Ongoing heel pain for months
Tight Achilles tendon
Plantar fasciitis is a common injury and can go away on its own. Using ice packs and OTC anti-inflammatory medications can help with the pain and inflammation; improving your footwear to support the arch of your feet can also help. However, if you still have plantar fasciitis pain after several weeks, you may need professional treatment.
Relief for Plantar Fasciitis
The key to relieving plantar fasciitis pain is to allow the ligament to heal. Reducing inflammation and stretching the ligament can improve your symptoms and relieve your pain. At Ortho Sport & Spine Physicians, we offer a variety of treatment options for our patients with plantar fasciitis, including:
Physical therapy
Massage
Stretching exercises
Anti-inflammatory steroid injections
It is very rare that surgery or invasive treatment are needed for plantar fasciitis. If you are suffering from foot pain caused by plantar fasciitis and you want to explore treatment options, come see us at Ortho Sport & Spine Physicians. Call one of our many convenient locations to schedule your appointment.
Posted on behalf of Ortho Sport & Spine Physicians