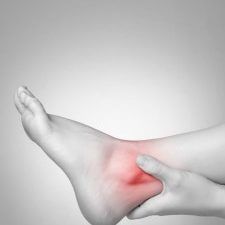 Weak ankles can lead to long-term foot and ankle pain, repeated ankle sprains and a twisting of the ankle outward when walking. Symptoms of ankle instability include:
The inability to keep your ankles straight when standing or walking (especially when wearing heels)
Pain in the feet and ankles
A history of ankle injuries
However, by strengthening the muscles that regulate the ankle joint, avoiding high-risk activities and wearing a supportive brace or shoe, a foot and ankle specialist can often cure individuals with ankle instability without surgery and needing permanent ankle joint reconstruction. Surgery to tighten up the ligaments supporting the ankle or reconstruction of these ligaments using a tendon graft may be necessary in cases where non-operative treatment has failed.
Ankle Instability Causes
Ankle instability is typically characterized by either a history of repeated ankle sprains or an overall feeling of unsteadiness. In addition, a sense of your ankle giving way and rolling inward frequently is common.
Injuries to the ligaments on the ankle's outer (lateral) aspect result in instability. This can cause mild discomfort or, in more extreme cases, a sprain or tear in the ligaments. Because of this, the individual may feel like their ankle is always giving out, and they can be more prone to ankle sprains, even after minor stress or twists.
The Ankle Instability Cycle
When your foot rolls inward, and your weight transfers to the outside edge of your ankle, you have suffered the first stage of an inversion injury. Your supporting ligaments stretch or rupture as you are forced to rotate your ankle joint.
Ligaments that have been overstretched or torn may not heal correctly. Your ligaments are weak because they are not doing their job, which is to keep the ankle joint stable. As a result, you often sprain your ankle.
The consequence is a never-ending cycle of ankle sprains and persistent ankle instability. Chronic ankle ligament injuries might eventually cause degenerative changes and even osteoarthritis without intervention.
Seeking Treatment to Strengthen and Heal Your Ankle
Consult the experts at Ortho Sport & Spine Physicians if you have persistent ankle instability. You should not have to live with a weak ankle for another day. Our foot and ankle specialist can help you regain stability and move on to a life without sprains with the least invasive treatment plan possible.
Posted on behalf of Ortho Sport & Spine Physicians