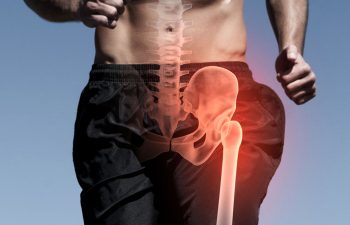 At Ortho Sport & Spine Physicians, we offer expert hip pain treatment. We are the leading provider of expert his pain treatment using our orthopedic and sports medicine expertise in Atlanta and Savannah. We specialize in utilizing effective and minimally invasive solutions for acute and chronic hip pain. We will take time to accurately pinpoint the source of your hip pain, so we can treat is most effectively.
Common causes of hip pain
Arthritis one of the leading causes of hip pain, especially if you are older. Osteoarthritis and rheumatoid arthritis are the most common. The inflammation of your hip joint and breakdown of your cartilage caused by your arthritis leads to a great deal of pain.
Hip fractures are common sources of pain. As you age, your bones decline and become more fragile. This combination can lead to hip breaking and injury when you fall.
Repetitive activities from overuse or overwork can cause conditions such as Bursitis, Tendinitis or a muscle or tendon strain.
Usually caused by athletes who engage in repetitive twisting movements, hip labral tears can cause a great deal of hip pain.
Cancer can cause pain in your bones, which can go into your hips as well.
When your blood flow slows, pain can occur due to a condition called osteonecrosis.
If you're experiencing pain in your hip region, call Ortho Sport & Spine Physicians to schedule an appointment. We are committed to using the most advanced and effective non-surgical treatments available to help you get relief from whatever is causing your hip pain.
Posted on behalf of Ortho Sport & Spine Physicians