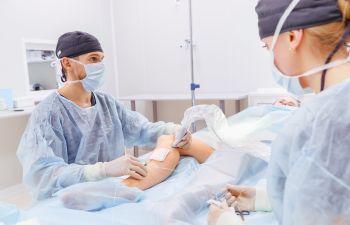 A knee replacement surgery, or arthroplasty, may sound like a major undertaking, but it is one of the most common bone surgeries in the United States. It can help ease the pain caused by severe arthritis or bone deterioration. It also may help you with easier movement.
The knee joint is removed and replaced with a metal and plastic artificial joint by an orthopedic surgeon. The components of the artificial joint are meticulously placed for the best fit to ensure smooth operation before your surgeon closes the surgical incisions.
The Days After Knee Replacement Surgery
You will experience some level of pain, but there are local pain blocks that are done the day of surgery and the following day that help a great deal. You may also receive pain medications from your surgeon. The best advice is to remember to ice and elevate. Furthermore, keep your knee as straight as possible to gain maximum extension.
Physical therapy usually begins two to three days after discharge from the surgery center. The therapist will measure your range of motion.  Therapy can incorporate massage and manipulation to decrease pain and improve motion. It may seem counterintuitive to try to get up and move, but it will propel you into faster healing overall.
The physical therapy will help the knee extend to straight or to 0 degrees and flexion is aimed at 110 degrees. Avoid lifting weights for the first four weeks. After, you can add lightweight, high-repetition exercises with the go ahead from your surgeon.
By about day 10 to 2 weeks, you should be able to handle any pain with OTC pain medications and NSAIDs. You can start riding a stationary bike in week three, return to the gym by week six while doing many other exercises with your doctor's approval.
Gradually Increase Walking After Knee Surgery
Gradual walking is the best introductory exercise. During the first week, you will need a walker full time. The second week can be spent using a cane for shorter walks but a walker for longer walks. In the third week, you can use a cane outside, but for inside you can use furniture and walls as balance aids. In week four, you should be able to walk independently with a small limp. You should be able to walk for long distances with minimal limping by week six.
On average, by the end of week six, the pain is less than before surgery, but you may still be taking anti-inflammatories to manage some lingering pain. The knee should be much more stable and balanced after surgery. Knee swelling can still be caused by long car trips and plane flights.
If you are considering knee replacement surgery, call Ortho Sport & Spine Physicians today for an in-depth consultation on the benefits of having this surgery.
Posted on behalf of Ortho Sport & Spine Physicians