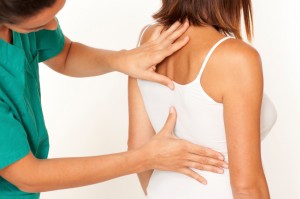 If you just had, or about to have Scoliosis Surgery there are some common guidelines for your recovery at home. While all patients respond to surgery at a different pace and experience a varying level of severity of the condition, there are general things you can typically expect after surgery.
Caring For Your Incision
If you have a dressing over your incision, change it once per day. When your dressing reveals no staining, you may discontinue the use of a dressing. If you have Steri-Strips, they usually fall off on their own and do not need removed by you unless they are partially coming off, then you may remove it. To shower, place plastic wrap over your incision to ensure it does not get drenched.
Caring For Your Body
When it's safe to begin walking (as instructed by your doctor) you are encouraged to walk. It's important to avoid bending, lifting and twisting. Resuming sports activities will take awhile longer. A gradual pace at returning to sports is recommended and should always be done under a doctor's care.
Getting From Here to There
You should avoid long care rides for approximately six weeks after your surgery. When you do need to ride in a car, or other type of transportation, take a pillow or some sort of cushion with you to place behind your back.
Most patients who undergo scoliosis surgery are teens or adolescents. Ortho Sport & Spine Physicians are fellowship trained and have extensive experience in spinal treatment. Contact us today for an exam and consultation. Together with our spinal specialists, we can explore the options for treating the effects of your scoliosis, including the possibility of correction surgery.
Posted on behalf of Ortho Sport & Spine Physicians