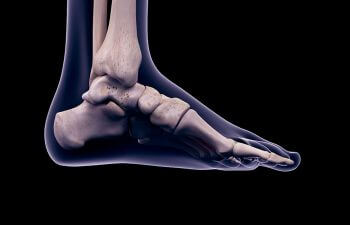 Ortho Sport & Spine Physicians is your Atlanta Plantar Fasciitis Treatment Specialist. We can help you get on the road to recovery from your pain related to your heel when you're standing or walking. We offer treatment plans depending on your exact diagnosis. Your treatment may include any combination of rest, stretching, massage, physical therapy, anti-inflammatory medications, steroid and anesthetic injections and more.
Plantar Fasciitis is caused by inflammation in the ligament that connects your heel bone to your toes and supports the arch of your foot. If you suffer from it, you typically have a very difficult time standing or walking.
If you suffer from Plantar Fasciitis, contact Ortho Sport & Spine Physicians. There are also things you can do at home to help relieve your pain, here are a few.
Massage
One massage technique you may try at home is to release your tension in your Plantar Fasciitis. Using lubricated hands, apply the heel of your hand with deep, sustained pressure from the ball of your foot to your heel. It may feel mildly uncomfortable and should not be applied when it causes you to tighten up.
Rest
Allowing your Plantar Fasciitis time to heal is important. Keep the weight off your foot until your inflammation goes down. If you're afraid resting will cause you to get out of shape, consider that by not resting you won't be able to recover and get back into shape for a longer period of time.
Ice
Use an icepack or a homemade icepack for your icing treatment. Apply the icepack wrapped in a towel to your heel 3 or 4 times a day for 15 to 20 minutes each time.
Contact our Atlanta Plantar Fasciitis Treatment Specialists at Ortho Sport & Spine Physicians today so we can get you on the road to recovery and help you stay active and live your best life.
Posted on behalf of Ortho Sport & Spine Physicians