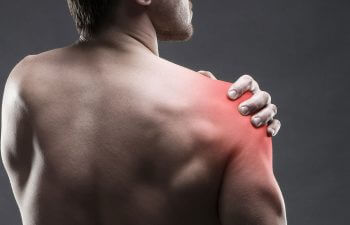 Unless you have had the experience, you have no idea how incapacitating shoulder pain can be. Reaching up can become an impossible feat when shoulder pain is severe. Even mild pain can impact how you perform daily activities. The act of brushing your hair can suddenly become challenging in the presence of shoulder pain.
Causes of Shoulder Pain
There are many structures in the shoulder joint. This joint provides more range of motion than any other joint and is also more vulnerable to injury. Tendons, ligaments and supportive tissues work together to allow the joint to move in a variety of directions. When one or more of these structures is injured, the result can be severe pain.
Many muscles support the shoulder joint. These include the pectoral, triceps, biceps, deltoid and those in the rotator cuff. Poor posture can cause the pectoral muscles to tighten when the body is held in a forward slumped position for extended lengths of time. This position also causes shoulder muscles at the back to overstretch. Rotator cuff muscles and the muscles attached to the scapula begin to weaken. This can lead to pinching of the rotator cuff tendons and the biceps. This describes one of the most common causes of shoulder pain.
Rotator Cuff Issues
Contact sports often produce injuries in the rotator cuff. Four small muscles and tendons attached to the shoulder blade make up the rotator cuff. Tears in this area can come from a blow, fall or other type of accident. They can also occur as a result of repetitive motion over time or overuse.
When the rotator cuff is injured, the shoulder becomes weak. Raising your arm over your head can cause immediate and serious pain. It may be difficult to perform daily activities including personal grooming, getting dressed and more.
When you experience pain or weakness in your shoulder, seek medical help. Early intervention can prevent further injury and more pain. Contact Ortho Sport & Spine. Our physical therapists work with you to develop an individualized treatment plan that will help you feel better fast.
Posted on behalf of Ortho Sport & Spine Physicians