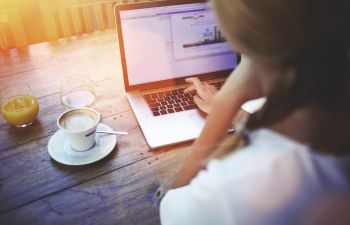 Many people are now working from home, thanks to COVID-19. While it is a good thing when you can work from home, it can be a double-edged sword if you do not have your workspace set up properly. A poorly designed workspace, along with the added stress you may be experiencing, can lead to back and neck pain.
Position Yourself for Success
Maintaining correct posture is very important. Poor posture can strain neck muscles, causing neck pain. Pressure on the spine can eventually lead to changes in your spine. It can cause pressure on muscles, discs and joints and contribute to nerve damage.
When working on your computer, your hips should be back as far as they can go in your chair. Your knees should be at hip level or slightly lower with your feet flat on the floor. The armrests should be positioned so that your shoulders are relaxed.
Your keyboard should be directly in front of you and close to your body. Some individuals find a curved keyboard more comfortable for work. Tilt the keyboard sufficiently so your shoulders remain relaxed and your elbows are in an open position.
Position the monitor so it is eye-level. You want your neck to be in a neutral, relaxed position. If you need to talk on the phone while you are working, use a headset if possible. This will eliminate cradling the phone between your head and shoulder, which causes neck strain.
Get a Move On
Working at home is not always as easy as it sounds. You may hyper-focus on your work and forget to take breaks. However, it is important for your body, especially your spine, for you to take breaks. Just a minute or two of stretching after 20–30 minutes of work will help you feel refreshed. Stretching also helps your muscles. Remember to change tasks after an hour or so of work.
Ortho Sport & Spine Physicians can help relieve neck and back pain due to injury, accidents or painful conditions. Give us a call and schedule an appointment for a consultation.
Posted on behalf of Ortho Sport & Spine Physicians