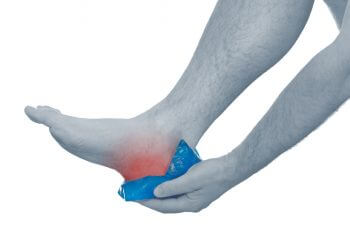 Heel pain is most often caused by plantar fasciitis. This condition is the result of inflammation of the thick band of tissue located on the bottom of the foot connecting the heel bone to the toes. This is called the plantar fascia.
The pain caused by plantar fasciitis usually occurs in the morning and decreases with continued movement. It is a stabbing pain, and may return if you have extended periods of time standing, or when you get up from sitting a long time.
High Risk Individuals
Though this condition is seen most often in people between the ages of 40 and 60, it is common among runners. If you run on hard surfaces like concrete or asphalt, you are putting extra stress on the plantar fascia. This can cause inflammation in the tissue, which results in heel pain. If your running shoes are not providing enough support, you may develop the condition.
Besides the shoes you wear and the conditions under which you run, how you run can also affect the plantar fascia. The plantar fascia is made up of collagen, which is a rigid protein. Over pronation can cause tiny tears to form when it is repeatedly stretched. This irritation and accompanying inflammation produce pain.
Runners are not alone. Obesity can also cause plantar fasciitis due to the extra weight. Anyone who spends hours walking or standing on hard surfaces is susceptible, too. Early onset of plantar fasciitis can be seen in athletes who perform activities that place stress on the heel of the foot. Ballet dancers, those who participate in aerobic dance, along with long-distance runners and ballistic jumping activities are in this group.
Lowering Your Risk
If you are among those in the high-risk categories, you can take steps to lower your risk. Your shoes should be supportive and provide proper cushioning for your feet. Runners in particular need to avoid wearing shoes that have passed their prime. It is important to purchase shoes that fit your feet and provide adequate arch support and cushioning.
Walking barefoot around the house stresses the plantar fascia tissues. Wearing footwear with natural arch support will prevent irritation. Use gel or cushioned insoles if you must spend hours walking or standing on hard surfaces.
Heel pain in the morning is an indication that you may have a problem with plantar fasciitis, particularly if you are at high risk. Getting a proper diagnosis and early intervention are the first steps toward full recovery.
Posted on behalf of Ortho Sport & Spine Physicians