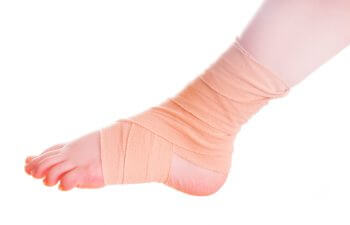 Achilles tendinitis often affects runners who suddenly increase their running intensity or duration. However, it can happen to anyone.
The Achilles tendon is your largest tendon, stretching from the heel bone to the calf muscle behind your ankle. It supports ankle and calf movement, enabling you to stand on your tiptoes, point your toes and perform jumping or springing actions. Furthermore, it is essential for everyday activities like walking, so it wears easily. Injuries are common.
Achilles Tendonitis Symptoms
If you feel pain around this tendon, you may have Achilles tendonitis. It is an uncomfortable (sometimes debilitating) condition that can restrict mobility. Usually, it is a mild to moderate burning pain or stiffness in your leg. However, your Achilles tendon may be torn if the pain is severe.
The pain can worsen when you wake up and decrease throughout the day. But it may worsen after prolonged walking, running or stair climbing. At Ortho Sport & Spine Physicians, our treatment plans for Archilles tendonitis focus on pain relief, improving function and preventing the condition from reoccurring.
What Happens if You Ignore Achilles Tendonitis Symptoms?
Sometimes, people ignore mild symptoms and do not treat Achilles tendonitis early. This is a mistake, as continued stress on a damaged Achilles tendon can lead to severe problems.
Left untreated, tendon injuries can progress until the tendon loses its anatomic structure and begins to develop tears. Such degeneration can cause a complete Achilles tendon rupture, requiring surgery.
What Causes Achilles Tendonitis?
Repeated or intense strain from walking, running or jumping can cause Achilles tendinitis. In addition, age increases Achilles tendinitis risk. Hence, it commonly affects middle-aged individuals who engage in weekend sessions of tennis or basketball because of the sudden stress on the tendon.
Injuries occur when they suddenly push off and lift their feet, not when they land. However, merely stepping into a hole the wrong way or falling can rupture your Achilles tendon and cause tendonitis.
How to Prevent Achilles Tendinitis
Warm up and stretch your calves before exercising or playing sports to reduce your Achilles tendinitis risk. Other preventive measures include:
Avoid repetitive stress on the Achilles tendon by doing different exercises.
Slowly increase your exercise duration and intensity.
Stay in shape year-round.
Wear well-fitting shoes.
Avoid hills and uneven terrain.
Most importantly, rest and consult our orthopedic specialists about the following steps if you have Achilles tendinitis symptoms. Sometimes, Achilles bursitis can be mistaken for tendinitis, so schedule an appointment at Ortho Sport & Spine Physicians if pain persists even after rest. Our double board-certified interventional sports physicians provide expert Achilles tendinitis treatment using the most minimally invasive and advanced methods available.
Posted on behalf of Ortho Sport & Spine Physicians