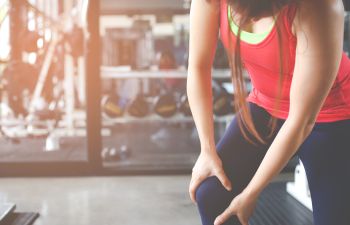 Can you remember walking into a gym for the first time? You were likely eager to start working out, but weren't sure what you were supposed to do. With regular gym use, most people begin to feel more comfortable. It is not unusual for gym users to experience pain or suffer injuries. However, your form and training could be increasing risk factors.
Working out can cause significant strain on the body. The tendons, muscles and joints are especially vulnerable. If you are not using the proper form and techniques for each exercise, injuries are likely to occur. Hiring a personal trainer can help you avoid these issues, so long as you don't push yourself too hard.
Gain vs. Pain
It's difficult to gauge how much pain is acceptable when working out at the gym. As you exercise with weights, micro-tears in the muscles are inevitable. The healing process is what results in leaner or larger muscle mass. In most cases, pain and discomfort eases a few days after each session. If you continue to suffer from painful symptoms, consult with a specialist from Ortho Sport & Spine Physicians.
Whether you are working out alone or with a PT, listen to your body. Persistent pain, inflammation, stiffness or immobility is not normal. You go to the gym to feel good, so constant discomfort is a red flag when it comes to muscle and bone health. Ortho Sport & Spine Physicians can conduct examinations and determine the root cause of your problems.
Our sports medicine specialists understand kinetics and how movement impacts on bone health. We can provide guidance, medicinal relief, physical therapy and surgery if needed. Ensure that your time in the gym is productive and does not result in unnecessary physical injuries.
At Ortho Sport & Spine Physicians, our specialists have extensive experience working with gym enthusiasts. Every day, patients walk through our doors with exercise and weightlifting related injuries. There is no shame in asking for help when the strain outweighs the gain.
Call the experts at Ortho Sport & Spine Physicians if you are concerned about gym related pain. We will get to the bottom of the issue and offer you tailored relief.
Posted on behalf of Ortho Sport & Spine Physicians