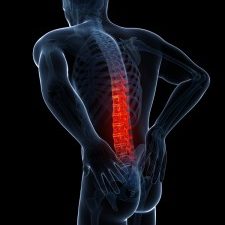 Whether it's lifting heavy boxes on moving day, sitting in a desk chair at the office, suffering long commutes each afternoon, or playing a quick game of backyard football – there's no end to the everyday activities that threaten the health and wellness of your spine.
Your spine is critical to your ability to twist, bend, and move comfortably, and to the overall functioning of your central nervous system and countless muscles, tendons, and ligaments throughout your body.
Keep yours healthy, protected, and injury-free by following these tips:
Exercise daily. When done correctly, regular exercise can build up strong core muscles that protect your lower back and lumbar region. It also helps to increase blood flow to the spine, supplying it with important nutrients.
Be aware of your posture. Frequent slouching does a number on your spine, compromising its natural curvature and putting unwanted pressure on your lower back. If you have to sit during the day, try to remember to sit up straight, and take frequent breaks to get up and walk around.
Keep your hamstrings loose. Tight hamstrings are a surprising cause of back pain. Stretching them out throughout the day can relieve pressure and tension, and provide relief from backaches.
Invest in a good mattress and pillows. Your spine needs rest just like the rest of your body. Quality sleep gives your back time to relax, and the right mattress and pillows can offer the support you need to keep it protected. Good sleep also improves your overall wellness, boosting your immune system and amping up your body's ability to protect itself from sickness and injury.
If you do suffer a spinal injury, give the team at Ortho Sport & Spine Physicians a call. We offer a full range of rehabilitative and minimally invasive surgical treatments to get you back on your feet fast.
Posted on behalf of Ortho Sport & Spine Physicians