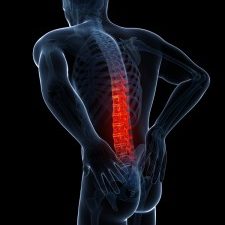 You probably already know that good posture and standing up straight are great for the health and alignment of your spine. But if you're looking to build strength in your back and reduce chronic back pain, as well as protect your back and spine from serious injury, one of the best things you can do is to build up your core muscles.
And this doesn't just mean working on your six-pack.
Your core consists of your entire trunk, including your glutes, abs, and obliques, and is responsible in one way or another for how you move, sit, stand, bend, and lift. When these muscles are strong, they help to anchor and stabilize your spine, almost like a biological back brace, reducing pain and helping to prevent injury. When they're weak, however, they strain already-tired back muscles, causing us to slouch forward and experience chronic, uncomfortable pain.
The next time you gear up for that cardio workout, make sure you're also incorporating moves that strengthen your core, such as yoga and pilates (with a focus on plank movements), ball crunches, and mountain climbers, just to name a few. One quick note: If you're already experiencing back pain or injury, remember to check with a physician before beginning an exercise program.
And if you are experiencing a spinal injury or condition that's causing you pain, call Ortho Sport & Spine Physicians, where our goal is help you live your best, most pain-free life every day.
Posted on behalf of Ortho Sport & Spine Physicians